We're immensely proud of our success in preserving India's liberal values. India today is the proud inheritor of a way of life that adopts the best democratic ideals the world has to offer. Our liberalism is about accepting the world with open arms without letting it affect our basic values as people. These liberal values are what set us apart in the community of nations today and make us a cultural superpower. Our liberal ideology is evident in the words of our leaders. When the rights of our LGBT community were struck down by a court, Sonia Gandhi said: "We are proud that our culture has always been an inclusive and tolerant one...I hope that Parliament will address this issue and uphold the Constitutional guarantee of life and liberty to all citizens of India, including those directly affected by this judgment."
"My Fellow Citizens,
I address you today for the last time as Prime Minister of India. Ten years ago, when I was entrusted with this responsibility, I entered upon it with diligence as my tool, truth as my beacon and a prayer that I might always do the right thing. Today, as I prepare to lay down office, I am aware that well befpore the final judgement that we all await from the Almighty, there is judgement in the court of public opnion that all electyed officials and govermnets are reuired to submit themselves to. Fellow citizens, each one of us should respect the judgement that you have delivered. The just concluded elections have deepened the foundations of our democratic polity. As I have said on many occasions, my life and tenure in public office are an open book. I have always tried to do my best in serving this great nation of ours. In the last ten years, we as a country have seen many successes and achievements that we should be proud of. Today, India is a far stronger country in every respect than it was a decade ago. I give credit for these successes to all of you. However, there is still vast latent development potential in our country and we must collectively work hard to realize it.
As I leave office, my abiding memory will be the love and kindness that I have always received from you. I owe everything to this country, this great land of ours where I, an underpriviliged child of Partition, was empowered enough to rise and occupy high office. It is both a debt that I will never be able to repay and a decoration that I will always wear with pride.
Friends, I am confident about the future of India. I fimly believe that the emrgence of India as a mayor powerhouse of the evolving global economy is an idea whose time has come. Blending tradition with modernity and unity with diversity, this nation of ours can show the way forward to the world. Serving this nation has been my privilige, There is nothing more that I could ask for.
I wish the incoming government every success as it embarks on its task and pray for even greater successes for our nation".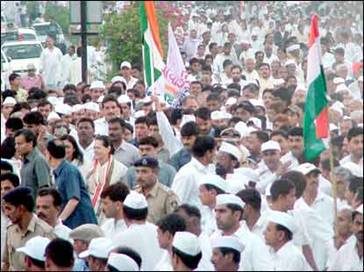 SALT MARCH
The Dandi March began on March 12, 1930, and was an important part of the Indian independence movement. It was a direct action campaign of tax resistance and nonviolent protest against the British salt monopoly in colonial India, and triggered the wider Civil Disobedience Movement. This was the most significant organized challenge to British authority since the Non-cooperation movement of 1920–22, and directly followed the Purna Swaraj declaration of independence by the Indian National Congress on January 26, 1930.
Mohandas Karamchand Gandhi (commonly called Mahatma Gandhi) led the Dandi march from his base, Sabarmati Ashram near Ahmedabad, to the sea coast near the village of Dandi. As he continued on this 24 day, 240 mile (390 km) march to produce salt without paying the tax, growing numbers of Indians joined him along the way. When Gandhi broke the salt laws at 6:30 am on April 6, 1930, it sparked large scale acts of civil disobedience against the British Raj salt laws by millions of Indians.
The campaign had a significant effect on changing world and British attitude towards Indian independence and caused large numbers of Indians to join the fight for the first time.