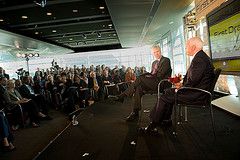 A new initiative. Inauguration of a 2-days forum where leading journalists, newsmakers, historians, politicians and people in the militairy field were present to talk, to discuss and to write the first draft of the history of our time.
WHY, WHAT, BY WHOM and WHERE? The Aspen Institute, in cooperation with The Atlantic and the Newseum, gathered in October 2009 leaders in Washington DC. Goals were contributions to remedies in the present transitional period in our world, concerning themes Economy & Business, eergy & Environment, Security & Foreign Affairs, Health Care, Education, Science & Technology, Infrastructure and Mobility.
Participation is on invitation. Featured participants were White House Senior advisor David Axelrod on politics and policy in the Obama Administration, former FED chairman Alan Greenspan about the causes and remedies for the recession, David Petraeus, talking with Brian Williams about Iraq and Afghanistan, John Mc Cain, Timothy Geithner, Janet Napolitano, Congressman, senators, Michael Bloomberg, mayor of New York, Lawrence Summers and many others.