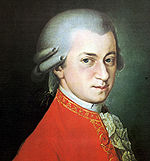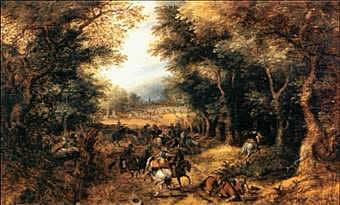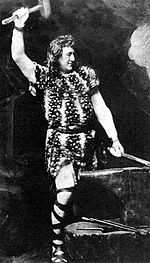 The music of the

Classical period

is characterized by homophonic texture, or an obvious melody with accompaniment. These new melodies tended to be almost voice-like and singable, allowing composers at the time to actually replace singer(s) as the focus of the music. Instrumental music therefore quickly replaced opera and other sung forms (such as oratorio) as the favorite of the musical audience and the epitome of great composition. This is not to say that opera disappeared. Indeed, during the classical period, several composers began producing operas for the general public, in their native languages (previous operas were generally in Italian). Along with the gradual displacement of the voice in favor of stronger, clearer melodies, counterpoint also typically became a decorative flourish, often used near the end of a work or for a single movement. In its stead, simple patterns, such as arpeggios and, in piano music, Alberti bass (an accompaniment with a repeated pattern typically in the left hand) were used to liven the movement of the piece without creating a confusing additional voice.
The now popular instrumental music was dominated by several well-defined forms: the sonata, the symphony, and the concerto, though none of these forms were specifically defined or taught at the time as they are now in the field of music theory. All three derive from sonata form, which is used to refer both to the overlying form of an entire work and the structure of a single movement. Sonata form matured during the Classical era to become the primary form of instrumental compositions throughout the 19th century.
The early Classical period was ushered in by the Mannheim School, which included such composers as Johann Stamitz, Franz Xaver Richter, Carl Stamitz, and Christian Cannabich. It exerted a profound influence on Joseph Haydn and, through him, on all subsequent European music. Wolfgang Amadeus Mozart was the central figure of the Classical period, and his phenomenal and varied output in all genres and by the quantity set forth in the 'KV' (Köchel verzeichnisch), defines our perception of the period. Ludwig van Beethoven and Franz Schubert were transitional composers, leading into the Romantic period, with their expansion of existing genres, forms, and even functions of music.
The German song is one of the most beautiful forms of musical Kleinkunst. In the German speaking part of Europe, the art of song in the 19th century rised to unparalleled highs. Composers and poets knew to elevate the combination of poetry and music to a perfect art form. And an art form that was accessible to everyone. Where there was a piano and someone could sing a little, a song sounded. From the late 18th century until far into the 20th century, Germany was flooded with tens of thousands of songs, some small and simple as an anthem, others extended and complicated as an opera scene.
The full range of human emotions is to be found in the song, from 'himmelhochjauzend' to 'zum Tode betrübt', to quote Goethe, one of the largest suppliers of lyrics. Hundreds composers wrote songs, including very great as Beethoven, Schubert, Mendelssohn, Schumann and Brahms.
In the Romantic period, music became more expressive and emotional, expanding to encompass literature, art, and philosophy. Famous early Romantic composers include Schumann, Chopin, Mendelssohn, Bellini, and Berlioz.

The late 19th century saw a dramatic expansion in the size of the orchestra, and in the role of concerts as part of urban society. Famous composers from the second half of the century include Johann Strauss II, Brahms, Liszt, Tchaikovsky, Verdi, and Wagner. Between 1890 and 1910, a third wave of composers including Dvořák, Mahler, Richard Strauss, Puccini, and Sibelius built on the work of middle Romantic composers to create even more complex – and often much longer – musical works.
A prominent mark of late 19th century music is its nationalistic fervor, as exemplified by such figures as Dvořák, Sibelius, and Grieg. Other prominent late-century figures include Saint-Saëns, Fauré, Rachmaninoff and Franck.
Chopin composed amoung many other works, mazurkas and polonaises. He did his best to elevate polonaise to higher art. World famous are the 'Military' (Op.40 in A major) and the "Heroic' (Op.53 in flat major). Most of his pianopolonaises are owed to politics, or rather war.
The works can be seen as as romantic desire after an unreachable homeland.
The 20th Century saw a revolution in music listening as the radio gained popularity worldwide and new media and technologies were developed to record, capture, reproduce and distribute music. Because music was no longer limited to concerts and clubs, it became possible for music artists to quickly gain fame nationwide and sometimes worldwide. Conversely, audiences were able to be exposed to a wider range of music than ever before.
Music performances became increasingly visual with the broadcast and recording of music videos and concerts. Music of all kinds also became increasingly portable. Headphones allowed people sitting next to each other to listen to entirely different performances or share the same performance.
20th Century music brought a new freedom and wide experimentation with new musical styles and forms that challenged the accepted rules of music of earlier periods. The invention of musical amplification and electronic instruments, especially the synthesizer, in the mid-20th century revolutionized popular music and accelerated the development of new forms of music.